Sven & Rolf
Monday, March 3, 2014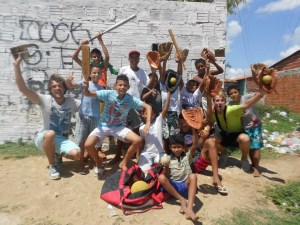 We have news about our Sport Development Leaders.
In the beginning of February Sven left Fortaleza.
We wish to thank Sven for the work he did in Fortaleza. The last three months Sven worked for ARCA. The Sport Develops You Foundation was happy to sponsor him.
In the last news reports you could already read about Sven's work. During the last month of his stay Sven was also responsible for the lessons Jogos de Aprender (Games to Learn). This way the kids from the favelas are learning while playing.
At this moment Sven is staying in Bonaire. In July Sven will return to Fortaleza to continue his activities. We are looking forward to see Sven again in Brazil!
End of February Rolf went back to Fortaleza. Some time ago Rolf was already there through the Sport Develops You Foundation.
For his second period Rolf is working as a PE-teacher at a school. Besides his PE classes he will continue to work for ARCA, as well as being responsible for running ARCA's baseball club. In November 2013 Rolf has set up the Baseball Club. It turned out to be a big success. Sven continued those classes the last few weeks of his stay, but now Rolf can pick it up again.
We want to make sure that the baseball club can continue in the future without help from the Sport Develops You Foundation. Unfortunately we can't keep on sponsoring the Baseball Club through the efforts of our Sport Development Leaders. Therefore we are looking for ways to enable the Baseball Club to function without gifts and help from the Sport Develops You Foundation.
On our Facebook page we reached the 400 likes. Up to the 500!
Like us on: https://www.facebook.com/SportDevelops