From Paramaribo To Rio
Sunday, May 4, 2014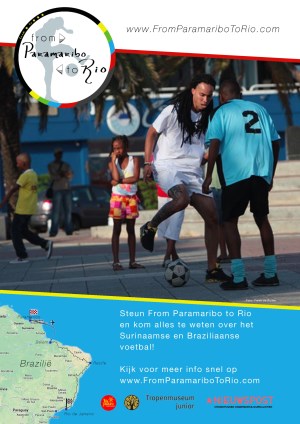 On Sunday March 23 Fortaleza was visited by Milan Nieweg, Ward Karssemeijer & Furgell Pinas. They call themselves "From Paramaribo To Rio", because of their journey from Paramaribo to Rio. FPTR´s main job is to give street football clinics. Furgell is a street football player. Ward and Milan are journalists. During their trip they made a stop in Fortaleza and went to visit Sport Develops You partner ARCA. As you know, at this moment Rolf de Jong is working for Sport Develops You and ARCA. Rolf showed the guys around in Fortaleza.
After their arrival at Fortaleza's bus terminal Rolf took the guys quickly to a bar where they could see the football match Real Madrid vs Barcelona.
After the match Rolf brought them to Cumbuco. This is the place where they spent the nights. On Monday evening they went to a football square in Cumbuco, where they played football and met many Brazilian kids.
On Tuesday they had a day of sightseeing and spent some time in Redençao where they visited museums, tasted cachaça and enjoyed swimming at the waterfalls.
On Wednesday it was a long day for the guys from FPTR. In the morning they visited the school "Colegio Maria Ester". The kids loved the clinics and Furgell was busy handing out autographs. In the afternoon they went to ARCA´s football club where football clinics were held. In each clinic 25 people participated. The kids learned new tricks during the clinics and in the end they played a match were they could use the tricks they learned.
On Thursday evening Rolf brought them back to the Fortaleza´s bus terminal. Their next destination is Natal.
http://nieuwspost.nl/projecten/from-paramaribo-to-rio
Check our facebook page to see the pictures:
https://www.facebook.com/SportDevelops