News Report January
Monday, January 5, 2015
Lecture at Oomen
As you could read in our last report we had a lecture in Nijmegen. On November 28th Maarten & Sven gave a presentation at our Project Sponsor Oomen Advocatuur during a network reception. We were very happy to show all the people about the work from the Sport Develops You Foundation.
National Expert Meeting
On December 9th The Sport Develops You Foundation was invited to join the National Expert Meeting Sport for Development, organized by International Sports Alliance in collaboration with NCDO and RESPO. At this meeting there were speakers from different organizations. Before and after the speakers there was time to meet and get to know each other and make new relations.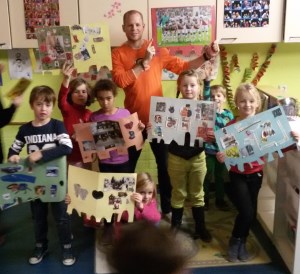 Recycle en Sport at the SterrenBSO
Maarten de Kruijf worked the last few months in Holland for the SterrenBSO in his hometown Utrecht. In the last weeks we started the Sport and Recycle workshop from Goed-Gespeeld. Also on this location it is a big success!
Maarten de Kruijf
With thanks to SportDevelopemnt.org Maarten had an interview last month. Here he spoke about the Sport Develops You Foundation. Read; http://www.sportdevelopment.org/2014/11/sport-develops-you/
Besides his work as a founder of SDYF, Maarten also has his regular job. On January 7th he will be leaving for Australia, where he is going to work at a football academy.
The Sport Develops You Foundation will continue in 2015.
TO ALL OF YOU A HAPPY NEW YEAR!
Keep following us on Twitter: https://twitter.com/sportdevelops
And Like us on Facebook: https://www.facebook.com/SportDevelops