Sport Development Leader Rolf
Tuesday, October 8, 2013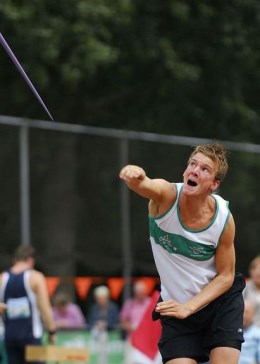 The Sport Develops You Foundation would like to tell you about our first Sport Development Leader.
In 2009 Rolf worked for NGO ARCA in Fortaleza, Brazil.
ARCA (= Associação Recreativa e esportiva para Crianças e Adolescentes) is an organization that teaches sports and recreation in the slums (= favelas) of Brazil.
The founder of Sport Develops You (Maarten de Kruijf) also used to work for ARCA. Rolf and Maarten both share good memories about the time they spent there and they are still interested in ARCA's programs.
Through the Sport Develops You Foundation we have the opportunity to stay involved. The SDY Foundation that supports young ambitious people who want to help people in need.
With the profits of the bracelets that Maarten sells himself, he can help the volunteers with the equipment they need.
Rolf left his job as a PE teacher to become a Sport Development Leader. End of August he left Holland and went to Brazil. After one month of traveling in Brazil he is now ready to start working again for ARCA.
Rolf is founder of Goed-Gespeeld (Well Played). Last month the Sport Develops You Foundation became partner of Goed-Gespeeld.
Both organizations have the same philosophy about what sports can do for a person. Through this partnership we can exchange experiences. Through this we can bring our programs to a higher level.
In our November news report we will give you an update about the work Rolf did in his first month.